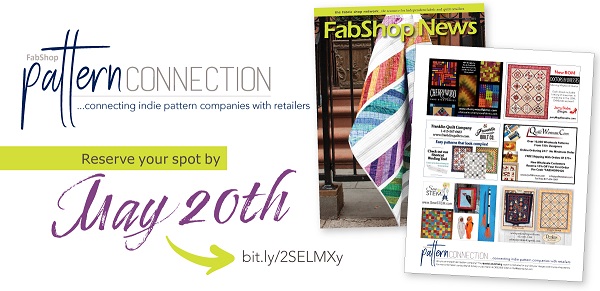 Special advertising opportunity in the upcoming issue of FabShop News exclusively for Indie Pattern Companies!
Get your designs seen by key shopowners in the Pattern Connection Section in our June Issue!
Hurry, only 12 spaces available!
---
How To Be Included:
Reserve your spot by Wednesday, May 20th
You can reserve multiple spaces
Per spot: $450
What's Needed:
High Resolution Ad: min 300 dpi in CMYK colors, not RGB
Ad size: 3.5″ x 2.7″
Preferred format, press ready pdf
Submit Your Materials:
Hurry, space is limited!
Contact Mandi Schulz or Julia Harsh
mandi.schulz@fabshopnet.com
julia.harsh@fabshopnet.com
Office: (360) 666-2392