August 17-19, 2017 | August 16-18, 2018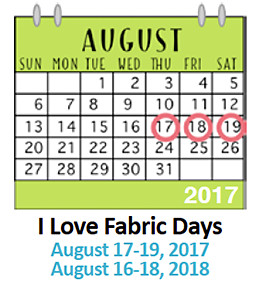 Host I Love Fabric Days
"If you ever wondered if these are worth the investment, they are. It's not just graphics. There are event ideas, email templates, talking points, and a schedule to keep me on track. This kit is a silent personal assistant. My favorite part is that of all the suggestions for events, not one includes having a sale to draw a crowd. Last year's I Love Fabric Days was my best weekend."
~ Shannon, Fabrics N Quilts
Each Event Toolkit will give you a plan, keep you on track, and help you spread the word about your event.
Event Planning: a by week planning calendar/checklist
Storefront Signage: custom posters, event flyers, and Bonus Bucks
Website and Blog: event badge and web logo
Social Media: 3-part email campaign and weekly social media posts with custom images
Print Advertising: postcard and print logo
Choose individual Event Toolkits or add ALL six to your promotional calendar for bundle pricing.
Use our dates below or have them customized with your dates and logo.
Shop Local Events: