Membership Benefits
Timely Industry News
Networking Opportunities
Group Buying Discounts
Educational Resources
Innovative Marketing Programs
and more….


Members of the FabShop Retailers' Association present a unified voice for independent fabric and quilt shops within the industry! Use the Association's combined buying power and services to contribute to your bottom line by saving you money!
Whether you're a new shopowner starting out or a seasoned veteran, the programs and benefits will help your business grow, boost sales, and improve your bottom line.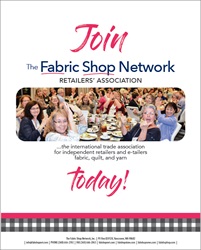 Download a
Membership Application (PDF)
Since 1997, our growing organization has supported and enhanced members' business success. The FabShop Retailers' Association is an organization that represents hundreds independent fabric and quilt retailers throughout the United States and Canada. Members enjoy programs and services to help reduce operating expenses and offer combined purchasing power.
---
Complimentary with Membership
FabShop News Trade Magazine: Your membership includes a complimentary subscription to FabShop News. Members tell us they read our bi-monthly magazine cover-to-cover for its timely, industry-specific content featuring new products from key suppliers. They keep FabShop News for years, as the business advice is timeless.
FabShop Forum and FabShop Chat: This confidential and private communication tool just for shopowners is the best way to ask and answer questions about every area of your business. Members discuss the nuts and bolts of our industry and best practices, share ideas, and offer support to colleagues around the world. Members consistently rave that this is one of their favorite and most valuable benefits of belonging to FabShop.
*New Shop Owners: Your shop must be open and retailing to the public in order to be connected to or participate in the forums.
fabricshoppersunite.com Shop Listing: Members who pledge to provide superior service, expert advice, and quality products are eligible for a complimentary listing on the shop local campaign website, fabricshoppersunite.com.
Members-Only Area: Members have exclusive access to areas of fabshopnet.com. Benefits include exclusive promotional graphics, promotional calendar ideas, sneak peeks of new programs, downloadable Print & Use postcards, exclusive free patterns, and supplements to FabShop News.
Monthly Live Q&A Session: Members connect with Laurie Harsh monthly on a live Q&A session. Learn from her 50+ years in the fabric retailing industry. Get questions answered, give live feedback, or just listen and learn from fellow shopowners.
Phone Consultation: As a new member, you are entitled to a free 30-minute telephone consultation with FabShop Founder and Retail Strategist, Laurie Harsh. You can use this time to get problem-solving advice on a topic of your choice from an experienced fabric retailer. This direct and personal access is a great value, and is worth the membership price alone! Additional paid consulting services are always available to Members as your business grows and changes.
---
Networking Opportunities
FabShop Pre-Market Kick-Off Dinner: Connect with fellow shopowners at the pre-market kickoff dinner held prior to the opening of Spring and Fall International Quilt Markets. The extremely popular Members-only dinners feature panel discussions, giveaways, networking, and more. This is your chance to have fun, meet your colleagues, learn about new marketing programs, and see new products before you hit the Market floor.
---
Marketing and Advertising Opportunities
FabShop HopsTM: For more than a decade, the FabShop Hop has been the premier online hop in the industry! Showcase your company and products to thousands of online shoppers as they search for the hidden Hop bunny. These month-long online Hops are scheduled throughout the year for utmost flexibility, and any FabShop Member with a web presence can participate (home page or e-commerce, on your own domain).
FabSearch: This search engine makes it easy for thousands of customers to locate and purchase their desired products from your inventory. Leverage the power of online search technology at a cost that is a fraction of what you might expect. Included with your FabShop membership is the basic FabSearch feature: shoppers' email inquiries will be delivered as a daily digest for your personal review and reply. Turbo charge this tool for a fee, and shoppers' search results will include your products, newsletters, and class information. It's a scalable tool—take it to the max to boost sales!
BlowOut Sales: FabShop offers four special online events. Our BlowOut Sales connect online shoppers with the merchandise you need to move fast. The events are promoted to thousands of retail customers. Here's your opportunity to sell slowmovers and attract new customers.
Clubs & Programs: Designed by shopowners for shopowners, to help you increase sales and create community. Each CD is a one-time investment you can use again and again, and includes everything you need—free-to-reproduce patterns and projects, marketing tools, promotional ideas, and event tips.
Block-of-the-Months: Our sampler quilts provide endless opportunities to engage customers: Block-of-the-Month, Saturday Samplers, 6- or 12-month classes, and more. Each CD includes tips on launching a successful sampler, printable pattern masters, kitting instructions for the quilt top and back, and marketing materials
Dedicated Email Blast: Email marketing still is one of the most cost-effective and useful tools available to promote with. FabShop can help you with targeted, direct, email marketing campaigns. Discover how easy it is to send a message up to our 50,000+ email opt-in subscribers, who have given us permission to send them advertising emails from you.
---
Industry Specific Retail Training for Shopowners
BizBooks: Comprehensive resources to consult any time or all the time. Our proven industry guides and templates will strengthen your financials, publicity, buying, leadership, and more.
Webinars: Sign up for live webinars and on-demand education. It's a convenient and affordable way to learn! Grow your shop with our fabric retailing curriculum that features a faculty of industry experts, interactive Q&A, coaching, and more — all accessible from the desktop or mobile device.
TeleClasses: A simple phone call connects you with a new realm of learning and information without the inconvenience, time, or expense of traveling to a central site to attend class. You can call from your office, home, or anywhere with access to a telephone. You merely dial the "teleconference number" for the class and are automatically connected with up to 20 other callers. TeleClasses are a fun, simple, and hassle-free way to experience distance learning.
---
Discount Programs to Reduce Operating Expense
UPS Savings Program
FabShop members now have access to new and improved flat rate discounts.
U.S. Members-Only Savings Include:
30% on Inbound & Outbound Ground Commercial / Residential
Canadian Members-Only Savings Include:
50% on Shipments within Canada
*Start here for discounts and specific services.
Open a new account, or if you are already using UPS shipping, apply the new discounts to your existing account.
---