13-Block
The Botanic Garden quilt has thirteen different blocks, set on point, with a horizontal zigzag setting. The blocks use many quick piecing methods, easily stitched by beginning quilters yet still fun for more accomplished quilters. The blocks are reminiscent of spring with its flowery presentation and the zigzag set evokes visions of the flow of nature.
This quilt will make an excellent block of the month project. Providing two full size 12" blocks each month will take 6 months. Then the half size block that is repeated four times for the 7th month. Zigzag set and borders for the 8th month. There is a total of 18 full size blocks plus 4 half blocks.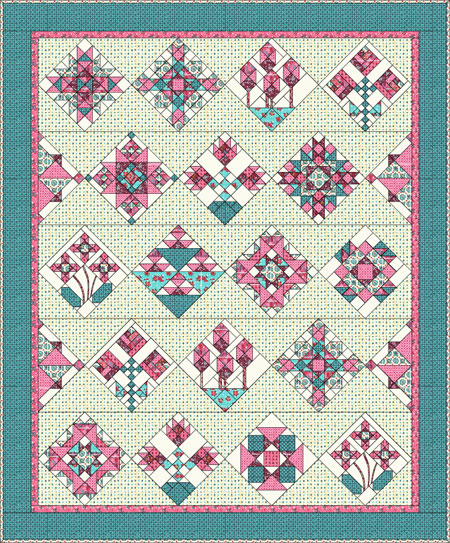 NOTE: Use these Samplers in-store or online as Saturday Sampler, Block by Block, On-going Class, Kit the Quilt top and finishing, and Sell the patterns. FabShop Sampler CD's provide shopowners who purchase the programs unlimited reproduction rights. These programs are not to be used as free patterns, free downloads, or giveaways.