FABSHOP NEWS MAGAZINE
FabShop News is an invaluable resource for fabric and quilt shop owners–a veritable treasure-trove of industry knowledge.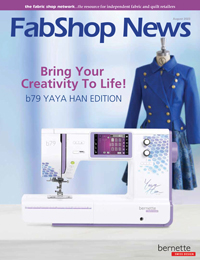 Published by The Fabric Shop Network trade association, the magazine is filled with articles from experts in the fabric industry. Our flagship magazine has been guiding and supporting member shops and subscribers for over twenty years. FabShop's highly-regarded publication covers every corner of the industry, including:
'Trendjacking' #PumpkinSpice to Market Your Shop
Hiring a Virtual Assistant Legal Considerations
Planning for Success or Reap What You Sow
Are Your Listening in an Interview? Hiring the Right Candidate
The Wheels On The Bus Go Round and Round Driving Customers and Sales
$60 US – Print | $80 Canada – Print | $90 Internationally – Print | $50 Digital
Click here to Subscribe today!
WEBCENTS MAGAZINE
webcentsmagazine.com knows the challenges faced by creative retailers – we get it, because we've been in your shoes. Succeeding at online retailing, building and converting your social media presence and effectively managing technology are all critical to your online creative business.
If you own and run a creative business and sell your wares directly to the public, we're here to help you navigate the changing landscape of the internet to broaden your reach and grow your business. You need content that's tailored to your unique information needs – and we are on your team.
As a webcentsmagazine.com subscriber, you'll receive:
Unlimited access to articles and information you can apply to your own creative business.
Insider experience: reports, videos, slide shows, and other multimedia features focused on helping you grow your creative retail business online.
Monthly e-newsletters with the latest news, tips, ideas, and data – delivered directly to your in-box.
webcentsmagazine.com is devoted entirely to online retailing for creative professionals. Brought to life by the crew at FabShop News and The Fabric Shop Network, including columnists who are experts in their fields. We bring an energetic and knowledgeable perspective to online retail–covering marketing, design, social media, and writing for the Web. wecentsmagazine.com's mission is to help online creative businesses succeed.
Laurie Harsh is the founding president of The Fabric Shop Network, Inc., the trade association for quilt and fabric retailers. What she began in 1997 has grown and developed into an incomparable resource for independent shopowners. Laurie is the Publisher and Editorial Director of FabShop News and webcentsmagazine.com. With decades of experience in the fabric industry and the knowledge to prove it, Laurie is a well-respected teacher and leader. She can be reached via email at laurie.harsh@fabshopnet.com.