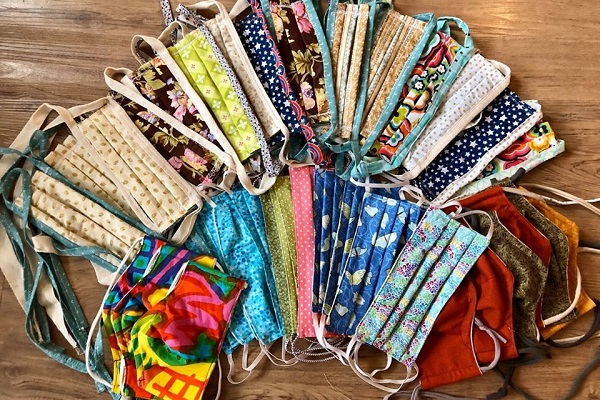 Vivian Lazich, owner of Sew Inspired Quilts in Simsbury, Connecticut, recently told us about a remarkable group she is proud to be a part of: Sewing Face Masks – Farmington Valley CT. This "private" Facebook Group has over 1,500 members. As of April 27, it has donated over 15,000 masks.
Lazich originally learned about the group through a local nurse midwife who was seeking supplies for making face masks to supplement the current shortages of personal protective equipment. The group's focus is to sew surgical face masks and N95 respirator covers for health care workers, first responders, and other essential-business employees in the Greater Hartford area during the coronavirus pandemic.
When the group first approached Lazich, the shopowner decided she did not want to profit from this work. Since her daughter is an ICU nurse, she said, this subject hits her right in the heart. To profit from her daughter's struggles to get adequate PPE just seemed wrong. And yet, as a small business challenged with how to remain strong and viable, she approached this group with an idea that would be a win for all those involved.
That's when one of the group members created a Go Fund Me Fundraiser. Sew Inspired Quilts committed to "selling" to the group, at or below cost, as many supplies as needed. Using the funds raised from Go Fund Me, the group could purchase fabric, thread, blades, and so on, and then donate any excess to COVID-related charities. In addition, for every $150 donated, Sew Inspired would donate an additional 3 yards of fabric, up to 150 yards.
Lazich joined in spreading the word on personal and business social media, and the community responded. Within 48 hours the fundraiser had brought in over $3,000 of the $5,000 cap. As of this writing, $7,000 has been raised and the goal has been increased to $10,000.
Here is how the win-win comes into play:
The fundraiser helps get good quality supplies into the hands of those sewing to support their communuity.
It also helps the local shop, Sew Inspired Quilt Shop, clear out inventory and cover its expenses during this time when business as usual is closed.
As a bonus, Lazich has gotten some excellent PR from the cause.
She reports that based on the generous donations, her shop has contributed the maximum 150 yards it committed to. And she adds excitedly, "We're still going strong!"
Way to go, Vivian Lazich!
Sew Inspired
8 Wilcox Street
Simsbury, CT 06070
https://www.sewinspiredquilts.com
905-270-7625
Source: https://bit.ly/2yRsh7b
Go Fund Me Fundraiser: https://bit.ly/2SdZznS