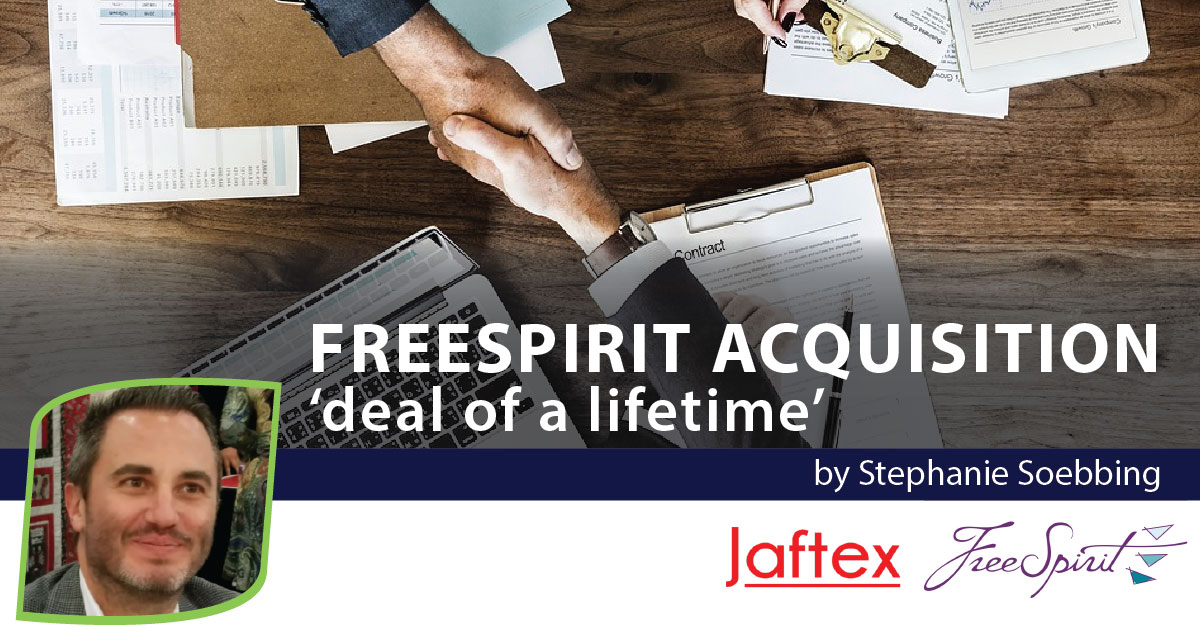 Scott Fortunoff was on vacation with his wife and kids when the news broke that FreeSpirit was closing its doors. The Fortunoff family owns Jaftex, an 88-year-old family-run business in its fourth generation. The company has made a practice of buying struggling companies in the sewing and quilting industry and had been looking to buy another fabric manufacturer for a year.
In true family-run business style, rather than ruin Scott Fortunoff's vacation, dad, third generation owner Robert Fortunoff, and brother, fourth generation owner Greg Fortunoff, negotiated the deal to purchase the FreeSpirit brand, keeping most, if not all, of the licensees intact. Scott Fortunoff, a lawyer by training, was only called in to review legal documents.
"This business is all about those designers and basically it was critical that we got them," Fortunoff said. "The deal might not have gone through had all the main players not agreed to come along. That was the beauty of this deal. We are getting, what I would call, 'Idols.' These people are quilting royalty. And they're all on board and we're trying to keep everyone intact."
The intent to purchase was announced on February 26, 2018, with the sale to be finalized at the end of April 2018. Fortunoff has already instructed the sales reps to get back on the road and plans to have a full presence with the FreeSpirit brand at Spring Quilt Market in Portland.
"They're not broken," Fortunoff said of FreeSpirit. "They have amazing designers, amazing quality, an amazing following. All the companies we've had over the years, which amounts to almost 20, have mostly been acquired, so we know how this goes. We find companies either when they are struggling or when they close and this is what we do."
The companies Fortunoff is referring to include Henry Glass, Studioe, Blank Quilting, Scott's Free Sewing Machines, Fabric Editions and A.E. Nathan Co., Inc. All are housed under the Jaftex umbrella.
Fortunoff believes more consolidation and acquisitions are ahead for the quilting industry, which he sees as being overpopulated with manufacturers.
"There's too many people selling, too many companies," Fortunoff said. "There's too much of everything and everyone is vying for the same dollars. Nobody is thriving. Everyone is just kind of surviving."
When Jaftex acquires a company, the Fortunoffs use the purchasing power created by owning multiple fabric manufacturers to negotiate lower costs to manufacture fabric, consolidating overlapping services such as accounting and shipping, and streamlining management to cut costs and increase margins.
In the immediate future Fortunoff said they do not plan to make any major changes to FreeSpirit, other than moving shipping to Jaftex's South Carolina facility.
"We're really trying to keep things status quo," Fortunoff said. "We just want to kind of figure it all out, do what we do on the management and financial side and get things going again and get things back on track."
The response to the news has been overwhemling. Fortunoff's executive Facebook page gained 1,300 followers in one day, not bad when it had 1,300 to start, essentially doubling his follower base in the 24 hours following the sale announcement. Quilters have been thanking him for keeping FreeSpirit alive and industry professionals have been trying to get his business.
"People love the team at FreeSpirit," Fortunoff said. "These people are royalty, Tula and Kaffe and Amy and Anna Maria, and I could just go on and on. They love us. They are so happy that we did this. We are the saviors. It is a good feeling."
Jaftex was created 88 years ago by Fortunoff's great-grandfather, Jacob Fortunoff, who sold imperfect goods and leftover lots. Over the years, the company transformed to manufacturing women's sleepwear and then began acquiring fabric manufacturers that sold to retail chains and independent quilt shops.
The move to focus on fabric came at a time when the women's sleepwear industry started to decline, ensuring the company would last through the fourth generation of Fortunoffs. With the Free Spirit acquisition, Fortunoff is hopeful this will ensure the company's future for his sons and nephews to run one day.
"This is a deal of a lifetime. We're all in shock," Fortunoff said. "I'm on a high and it's just great. But listen, we've got a lot of work ahead. … So I need a pinch and get my butt back into gear."