– As Seen in FabShop News December 2021, Issue 145 –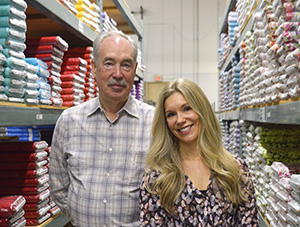 It has been 100 years since EE Schenck began doing business as an importer of silks from China. Today the Portland, Oregon, company is one of the largest fabric wholesalers in the United States. That growth is largely attributable to the dedicated stewardship of Stan Gray, who's been with the company for more than half of its existence. In 2014, Gray's daughter Brittany Gray joined the business. In 2019 she became EE Schenck's president and her father assumed the role of chairman.
---
EVOLUTION AND EXPANSION
A generation after the company founding, Earl Schenck Jr. joined the business in 1945. Branches were opened in Portland, Oregon, and Spokane, Washington. Several years later another branch opened in Vancouver, British Columbia. In 1967, the company was incorporated. Portland became its headquarters, and the other warehouses were closed.
The company had 10 employees in 1968 when Stan Gray was in college and was offered an opportunity that ultimately led him to his livelihood: a part-time job in the Schenck warehouse to help out during a busy period. The math major doubled and rolled fabric, and pulled and packed orders. He made deliveries and did whatever else needed to be done.
Soon the company had the "odd jobs man" calling on department stores to check inventories. Traveling from southern Washington to northern California in a company car, Gray became a salesman. "Doing sales wasn't my dream," he says. But he was accumulating experience that put him in the right place at a pivotal point in the company's history.
Seven years after Gray had begun working at Schenck, the owner became seriously ill. Gray was asked to step in as general manager. On his first day in that role, the company's fabric buyer also had a medical emergency and did not return to work. "I was left in a sink-or-swim situation," Gray recalls.
With three jobs himself and 12 employees willing to do whatever was necessary, Gray "swam." In 1981, with no money and very little equity, he asked the company's bank for a business loan and bought the company.
In 1987, the new owner purchased a second company, J & J Textiles, and assumed operations of its two distribution points in San Francisco and Los Angeles. Eventually the San Francisco warehouse was closed and the L.A. facility expanded. The company operated the Portland and L.A. warehouses until 2017. By then, rapid transportation and communication had made working out of one warehouse more feasible.
GROWING ALONG WITH QUILTING
A few popular events in the 1970s played an important role in EE Schenck's growth at that time. In 1971, the Whitney Museum in New York showed the exhibit "Abstract Design in American Quilts." The U.S. celebrated its Bicentennial in 1976. Good Housekeeping magazine's Great American Quilt Contest took place in 1978. These events helped expand the 1960s revival of handwork and renew interest in making quilts.

"Cotton stores," or quilt shops, began to open around the country. "It was like the double-knit boom—everyone followed that, and so did we," Gray remembers. "That trend eventually began to die down, but sewing didn't go away. Apparel was being made overseas and more women were entering the workforce, but hobby sewing expanded and quilt shops became more important."
The large textile mills selling to department and chain stores depended on volume sales and couldn't serve the small shops that were proliferating in the 1980s. EE Schenck saw the new market and began moving toward serving independent quilt stores. "We have had very long relationships with our quilting customers. They are incredibly important to our business," Gray says.
When it became apparent that the internet was evolving as an important business tool, EE Schenck brought in developers to build a website that would allow current and potential customers to see everything the company offered.
MAYWOOD STUDIO DESIGNS
As textile mills were closing or moving to other countries in the 1990s, Gray made another keen observation and saw another opportunity for expansion. EE Schenck began designing fabric under the Maywood Studio brand. The brand quickly became known for beautiful, high-quality cotton prints and reliable basics such as Shadow Play blenders and soft Woolies flannel. The company works with an in-house art department as well as freelance designers.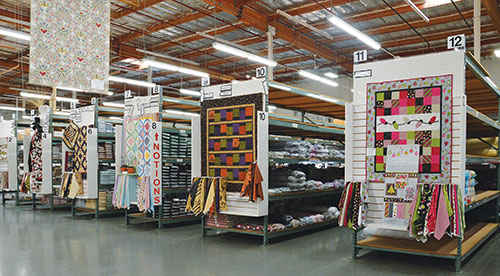 Bonnie Sullivan, a pattern and fabric designer in Oregon, started designing for Maywood Studio in 2003. "I was initially working with Katie Frym in Los Angeles and met Stan around the same time. I like that the company is not so big so I'm not pigeonholed into one thing," she says. Sullivan has designed about 20 collections over the years. She annually introduces new collections to coordinate with her longest-running group, Woolies Flannel.
"EE Schenck and Maywood Studio are filled with incredibly creative people," says Brittany Gray. "The new Workshop collections feature the Maywood Studio team's creative talents through collaborations on art and craft workshops. We are always looking for new creative designs that are still true to the Maywood Studio brand."Paper Flurries came about in a workshop where the team created over 50 different hand-cut snowflakes from paper and then printed them using traditional cyanotype methods.
Maywood Studio fabrics are printed primarily in Korea. Based on sales, inventory is maintained for an average of 12 months after first delivering the collection, so stores can reorder. Schenck offers a project gallery of five to 10 projects per collection. These include items such as quilts, totes, table runners, and Christmas stockings. The company makes these samples for loan to stores through its trunk show program, which can be reserved.
EXPANDED PRODUCTS, EXPANDED ACCOUNTS
In 2002, Gray expanded the company and added notions to offer one-stop shopping. The move to its current warehouse on Swan Island, near downtown Portland, more than doubled its space. Today the company employs about 100 people.
EE Schenck represents over 40 fabric companies, as well as its own EESCO line of basics and Maywood Studio brand. The EESCO line includes muslin, duck, and all of the basic utility fabrics. The company's total inventory of fabric, notions, books, patterns and gift items comes from more than 600 companies, large and small.
Jean Wells of Stitchin' Post in Sisters, Oregon, has been a Schenck customer since she opened her business 47 years ago. "Schenck is our basics resource for fabric and notions," she says. "We also buy collections of a variety of fabric styles, but I remember Stan telling me how important basics are to a shop."
In the mid-1990s when Marti Michell started producing the From Marti Michell template line, she teamed with Schenck on many block-of-the-month programs. As a result, she has worked with its design team to develop several fabrics and design other projects for EE Schenck.
Gray added Lycra knits after watching the Olympics. He was soon catering to small customers in the skating, dancing, cheerleading and cosplay niches. "We are always looking at the big picture," he says.
Schenck ships to all 50 states and around the world, to over 5,000 customers. These include companies in the quilting and crafts industries, electrical and mechanical fields, stores of all kinds, restaurants, paint companies, and hospitals. New accounts are signed up daily. The company keeps customers updated on the newest product releases, trends and sales through weekly emails and on social media.
Roy Wheelwright, customer care lead, notes that a lot of cottage industries have opened Etsy stores, and EE Schenck sells batting and backings to longarm quilters. Last year, it added microbial cloth for scrubs and hospital curtains. This cloth is activated by bleach to kill viruses.

Schenck works with 25 independent sales reps in the U.S. and Canada. Although customers are still interested in face-to-face presentations, they can place orders through the website or call the in-house customer service team. That team takes a lot of pride in its close relationships with customers, says Wheelwright. "We all have a relationship with our own customers, but for the most part, we service the whole spectrum of customers."
TRENDS TRADE SHOWS
Since 1987, EE Schenck has been hosting three-day TRENDS buyers' markets in March and September to bring together customers, vendors and industry educators. "We were still doing apparel fabrics when we did the first TRENDS show and used to do a whole runway thing with models showing off the fabrics we sold and how you could put things together," says Gray.
He adds that it's a bit like Quilt Market but on a smaller scale. The event includes special product displays and promotions, vendor booths, and demonstrations of how to use new products, as well as classes, guest speakers, contests and prizes. (Also like Quilt Market, TRENDS is a show for the trade only; qualifying for a wholesale account requires a business license, an initial order of $250, and a $1,200 yearly minimum to maintain the account.)
Everything was in place for TRENDS spring 2020 when EE Schenck was forced to cancel the event with just a week's notice because of the pandemic. "We scrambled," says Brittany Gray, "and our team was able to put TRENDS online very quickly."
The three TRENDS shows held since then have been virtual. The weeklong online events have featured exclusive new product releases, sales, and product and demo videos.
PROCEEDING THROUGH THE PANDEMIC
"2021 was a challenging year," the company president adds. "It was overwhelming to keep up with the constantly changing landscape of closures, reopenings and restrictions, but our
employees were inspiring!"
Lynne Hetrick, SKU maintenance supervisor, says that during the early months of the pandemic, business was slow. But it soon became evident that many people sheltering in place were taking advantage of being home by taking up sewing again. "We were so busy last year!" she recalls. "I'm very appreciative that people are sewing again."
HISTORY
EE Schenck Company is one of the oldest and largest wholesale distributors of fabrics and notions in the United States. For the past century, EE Schenck has been a leader in supplying fabric and notions to the sewing industry. Here is a look at just some of the company milestones from throughout the years.