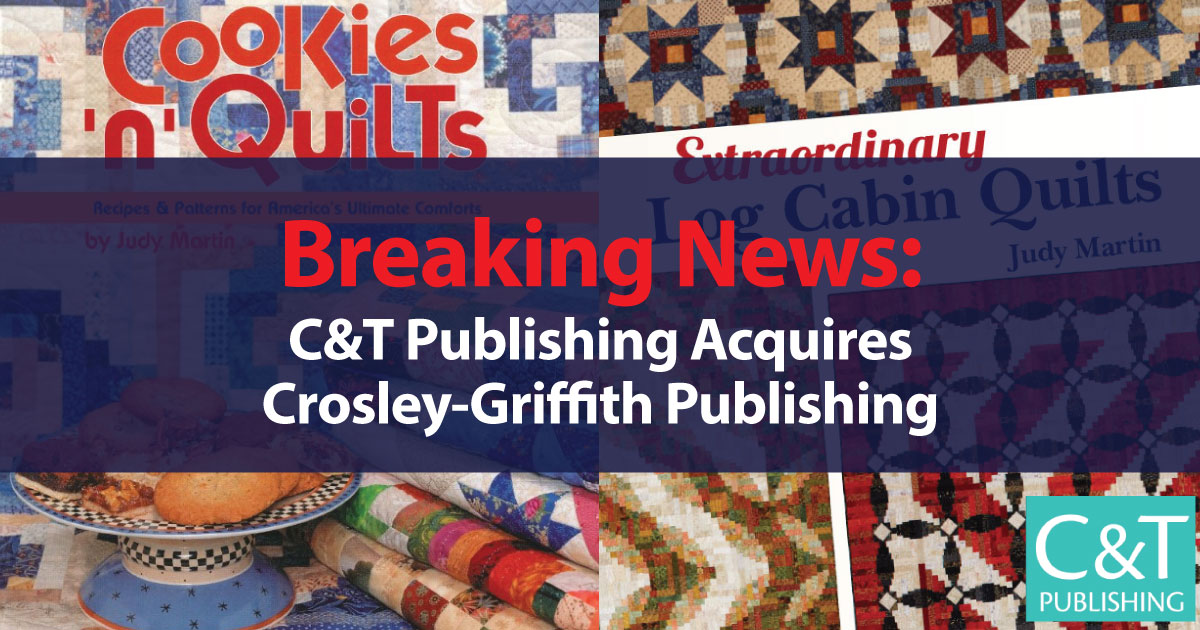 C&T Publishing is thrilled to announce the acquisition of Crosley Griffith Publishing Company, bringing you an established and popular line of quilting books and products by esteemed quilter Judy Martin. Effective November 1, 2018, C&T will be publishing and distributing ten Crosley Griffith books and products.
Crosley Griffith is a terrific and seamless addition to our catalog and rounds out C&T Publishing's robust list with more traditional titles. Included in the lineup are books on making extraordinary Log Cabin quilts, a rotary reference book, books on traditional patchwork quilting, and many more. Judy Martin is also known for her rotary tools: a 45° rot ary ruler made to open up new freedom in your pattern choices and a point trimmer to help you align patches perfectly for stitching.
From 1979 to 1987, Judy worked for Quilter's Newsletter Magazine and Quiltmaker. As an editor, Judy was one of the principal pattern designers on staff, as well as the author of countless articles and six quilting books. In 1987, she left to start her own publishing company, Crosley Griffith, with her husband, Steve Bennett. Judy Martin is proud to have designed and published more original patterns than anyone in history. As a well-recognized authority in the quilting world, top quilting authors look to Judy for inspiration, expertise, and patterns.
According to her website, "Judy Martin feels like the luckiest person in the world to get to make her living from quiltmaking. She buys more fabric than she'll ever use, asks her husband to just pull a sweater over it when his shirt loses a button, irons clothes only for weddings and funerals, and has gotten over feeling guilty about any of this. Judy encourages you to do the same. You'll live longer and be happier."
"Everyone at C&T Publishing is thrilled to join forces with Judy Martin and the great folks at Crosley Griffith Publishing. I've long admired Judy's quilts and the books she and Steve Bennett have published. Judy has the unique ability to simplify the process of creating stunning quilts rooted in tradition. The Crosley Griffith list of publications dovetails well with C&T's catalog. We look forward to distributing their wonderful products, as well as working with Judy to create new ones," says C&T's CEO Todd Hensley.
C&T Publishing has been partnering with the most influential names in quilting to create exceptional books and products for more than thirty years. Crosley Griffith embodies what we value: technical accuracy, celebrating the history and fun of quilting, innovation, and education.
Crosley Griffith books and products will be available at ctpub.com and at fabric retailers and bookstores worldwide.