– As Seen in FabShop News August 2021, Issue 143 –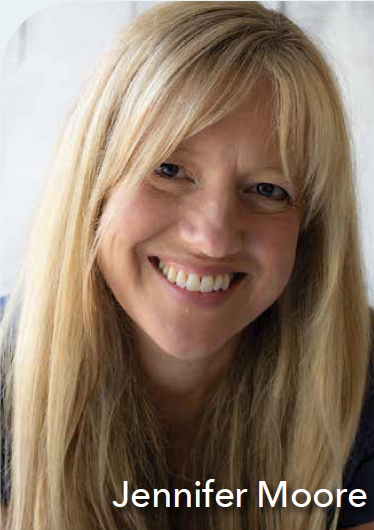 Meet Jennifer Moore,
owner of Monaluna, a small, independent, organic fabric company based in the Bay Area of California, in Walnut Creek. Moore and her husband, David Miguelucci, established Monaluna in 2010 with the hopes of bringing more sustainable fabric alternatives to our industry's marketplace.Before the launch of Monaluna, Moore had designed licensed collections with Robert Kaufman and then with Birch Fabrics, another company known for its organic fabric options.
---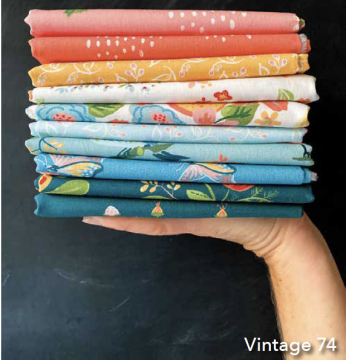 Moore says her commitment to using certified organic fabrics can be traced all the way back to her childhood. "I grew up in a family and community that was very aware of environmental issues and pretty active in the environmental movement. My mom started the first recycling truck in our neighborhood. We were members of the local health food co-op. And I learned how to make solar panels in my third-grade class."
Moore admits that owning her own company has been a "windy road." When she started, it was just her. As things grew, she opened a shop and had a number of people working for her. Eventually, however, between her wholesale and retail businesses, she started to feel as if she no longer had time to do the design work, which she loves. Instead, she was really caught up in managing everything.
Over the last couple of years, she has scaled back down. She closed the physical shop and focuses mostly on her design work and the wholesale side of things.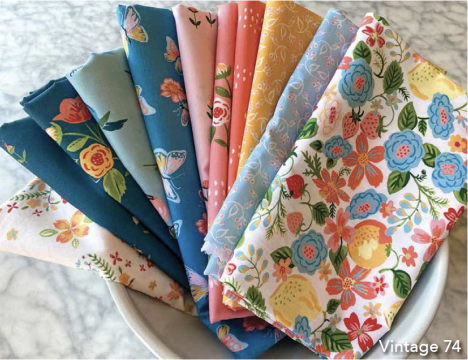 DESIGNING FOR DIGITAL
Moore works steadily with the certified organic mills, currently mainly in Korea. And she's started doing more digital printing. When COVID hit, she got so busy and had to turn out a couple of collections quickly. Digital printing really helped with that, she says.
She adds that digital printing is more eco-friendly than traditional analog printing, since there is less wastage. The inks all meet the Global Organic Textile Standard, or GOTS.
In fact, Moore says, the dyes in digital printing not only meet the standard of not being toxic but also use a lot less water. She says this is something that she and her family, being Californians, are always mindful of.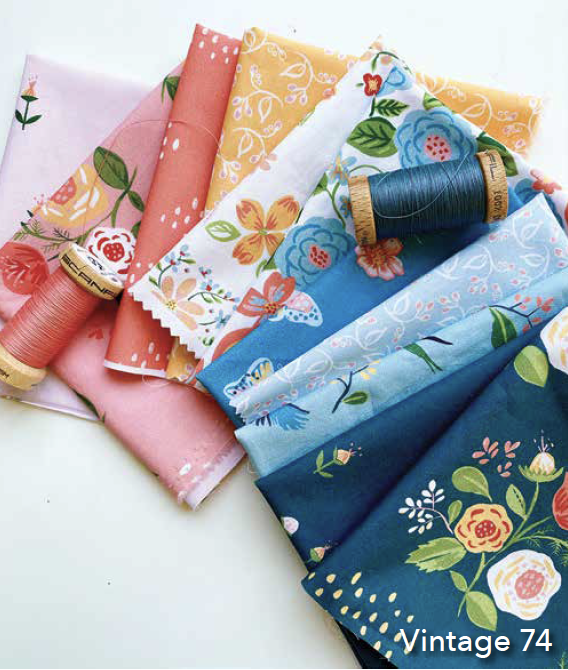 CERTIFIED ORGANIC FABRICS
With any of the processes, the printers start with organic greige goods from India. Moore can say that all Monaluna fabrics are certified according to the GOTS. (See Organic Fabric 101 on page 12 for further explanation.) But the Monaluna operations are not certified.
Moore says that figuring out the certification criteria is expensive and complicated, and it has to be renewed every year. That's why for now, the operations side of Monaluna is not certified. But, she emphasizes, the fabrics are. You can find the GOTS Transaction Certificates for Monaluna Collections at monaluna.com/pages/gots-certificates
NEW COLLECTIONS
Moore recently received her Vintage 74 collection. It features 11 cottagestyle prints inspired by her grandmother's farmhouse. The colors and subjects in the collection remind her of the farmhouse she visited in Michigan as a kid. Available in poplins and lawns, the collection includes vibrant florals, butterflies, and birds.
Moore also has an upcoming digital collection called Amour Vert, available Fall 2021. She calls it "Our popular Modern Love collection goes green." Amour Vert brings back a couple of old prints and features fairy houses, smaller florals, and geometrics.
Moore says that communicating with customers about your organic fabric selection is important. Organic fabric is more expensive, but it also offers an eco-standard that is safer for babies, communities, the earth, and water—"big picture things." She says you can inform customers about the benefits of organic without implying that conventional fabrics are bad.
---
Organic Fabric 101
The 2020 global survey by the management consultancy firm Accenture reported that 60% of consumers "have dramatically evolved" in making more environmentally friendly, sustainable, or ethical purchases since the start of the pandemic. Nine out of 10 of those consumers communicated that they were likely to continue to do so.
A survey by GreenPrint, an environmental technology company, conducted in February 2021 for its first Business of Sustainability Index, indicated that Americans are seeking eco-friendly products. In fact, nearly two-thirds (64%) are willing to pay a premium price for them. Yet 74% said they do not know how to identify them.
With the uptick in consumer data telling us shoppers are looking for healthier, more sustainable products, coupled with the availability of information, we have to wonder, Are we tiptoeing toward more transparency?
What makes cotton fabric organic? Let's dive into definitions, the basics, the standards, and the identification of certified organic fabrics.
or • gan • ic
adjective: relating to or derived from living matter. relating to a bodily organ or organs.
Organic, in terms of fabrics, applies to the overall process:
Farming. For a cotton fabric to be considered certified organic, the cotton plants must be grown in a safe, natural, ecologically responsible manner. The use of genetically engineered seeds is prohibited.
Soil health is also a priority and is maintained with natural sources between crop rotations.
This eco-friendly approach uses sustainable farming methods, without toxic chemicals and pesticides or synthetic fertilizers. It leaves the soil and water free from harmful contaminants. It is said to produce about 46% less CO2e, or carbon dioxide equivalent, compared with conventional cotton. In addition, many organic cotton growers have reduced water consumption by using rain more than irrigation.
Manufacture. Once grown, the organic fibers are converted into fabric. Organic manufacturing uses low-impact processes and low-impact dyes in the production. Manufacturers follow strict standards in the fiber-to-fabric transition. This is required for the fabric to be rightfully called certified organic.
This doesn't mean that other cotton farmers and manufacturers are not holding themselves to high standards. Many do. In fact, some fabrics are technically organic. They just don't carry the GOTS certification. That's because meeting the certification requirements can be extremely time-consuming and expensive.
CERTIFIED ORGANIC SEAL OF APPROVAL
The Global Organic Textile Standard, or GOTS, is the worldwide textile processing standard for organic fibers. GOTS Certified products include fabrics, yarns, clothing, home textiles, and more.
If a product is GOTS Certified it has followed strict standards through the entire textile supply chain and processes. Each step is regularly inspected by GOTS and independent third-party certifiers to ensure the standards for certified organic products are adhered to.
The GOTS Certification allows textile processors and manufacturers to export their fabrics with one organic certification that is accepted in all major markets. It also provides transparency for consumers to choose truly organic products.
To be GOTS Certified, both the manufacturing and the wholesale must be independently certified. For a wholesale company to also be GOTS Certified requires a hefty investment of time and money. You will find that fabric companies may offer GOTS Certified fabrics, but their company and its operations may not be GOTS Certified. You can find certified suppliers, shops, and approved chemical inputs (dyeing and finishing agents) on the GOTS website at global-standard.org.
STRICT STANDARDS
At least 70% organic fibers must be used for a product to be GOTS-certified. But the mere use of organic fibers is not enough. For an item to be truly sustainable, GOTS has strict standards that must be met, as follows:
Prohibition of the use of harmful chemicals that can cause cancer, birth defects and serious illnesses. Only low-impact chemicals are permitted, to protect consumers' health.
Restrictions on wastewater treatment.
Target goals and procedures for reducing water and energy consumption. •.
Adherence to social criteria based on key norms of the International Labour Organization, including safe working conditions with no discrimination and no child labor.
Required inspections.
Independent certification at each stage.
Let's just say there are a lot of boxes to be checked to attain the certified organic seal of approval.