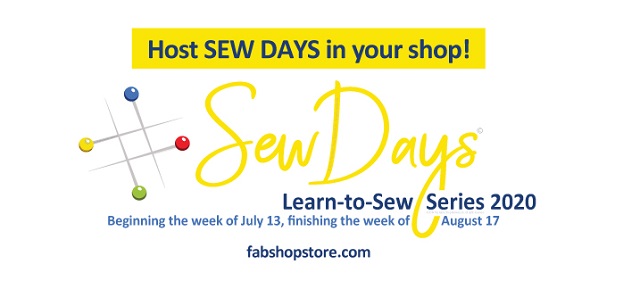 Be part of the worldwide program to encourage sewing.
6 one-day classes, beginning the week of July 13, finishing the week of August 17, 2020.
You choose the day and time to offer the class in your store.
Promote your store on the group social media sites.
Encourage your customers to share the fun with their non-sewing friends.
The class fee ($5.00 in US and $10 in Canada) is designed to encourage new customers to try sewing.
Make sewing social! Encourage friends to enjoy these classes together.
The projects are easy to kit and fun for both beginners and more experienced sewers.
Sew Days Projects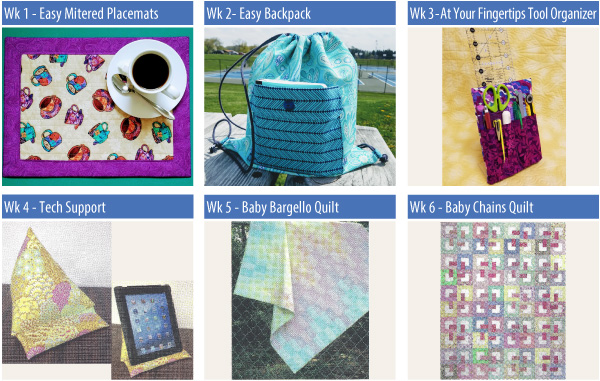 Goals
To bring new customers into your shop and bring back customers who have been on a hiatus.
To encourage consumers and non-sewing friends to socialize in a sewing atmosphere.
To keep the cost of exploring sewing to a minimum to encourage participation.
To link independent shops together and promote the educational experience.
To allow consumers and shopowners to share their experience on social media.
Additional Info
Each class in this program is independent of the others. Consumers can attend, and pick and choose the classes according to their schedule. They do NOT have to attend week 1 to participate in any of the following weeks.
All participating shops are required to offer the same project during the same week. This is to provide unity and ease of advertising on social media. You can choose the day of the week and the time, but the project is pre-determined.
The projects for this program have been kept simple to encourage participation and success for those that have never sewn before. We want to encourage a social atmosphere of fun rather than a formal class setting for this event. Get creative, make it fun! Show your customers that it is more satisfying to work in a social group than to take an online class.
Each project is designed to teach one basic technique that is easy to master. You are welcome to show and share additional projects that will encourage sales or participation in other classes on your shop class schedule.
Participants will need a sewing machine. The projects are easy enough that a sewer can share a machine with her non-sewing friend and still finish their projects in the 2 1/2-hour time frame. Participants will need a sewing machine. The projects are easy enough that a sewer can share a machine with her non-sewing friend and still finish their projects in the 2 1/2-hour time frame.

You have several options to provide machines for non-sewers that attend without a friend.
Purchase low cost machines such as the EverSewn from Brewer or New Home from Checker, to use in your classroom.
Rent these machines for a small fee per class.
Sell the machines as used after the event, or retain them for use in your classroom.
Machine dealers may choose to provide or rent machines for use.

The goal is to eliminate as many obstacles as possible for the non-sewer to get involved.
A Power Point presentation will be provided for each project for training employees. These presentations will include step-by-step instructions, tips, and additional ideas for add-on sales.
A few of the projects may require items that you do not normally carry in your store. These are easy to find at discount stores or order at minimal cost. The kit list will include sources and links for online ordering of those items.
Social media involvement is key to promoting your store's participation in this event. Lists of participating shops will be posted in several places online.

Invite consumers to participate in your shop event online and on the consumer Sew Days Facebook page at www.facebook.com/sewdays2019.
Post photos of your class, students with their finished projects, and group shots.
Don't forget to link to your store and include your phone number to encourage enrollment in future classes.