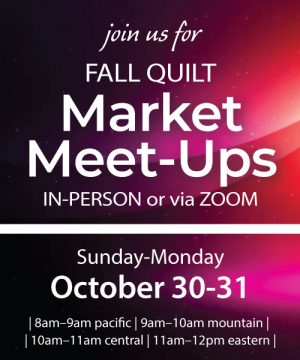 Come, join in the conversion In-Person or via Zoom
Sunday & Monday, October 30 & 31 at 10-11am Central
Meeting in the 'Relax & Recharge' Networking Lounge on the Market Floor
We're excited to finally be able to gather at Market! Come share with us and each other all the wonderful finds, trends, & must-haves you have found on the Market floor. Connect with your FabShop Friends, old and new. We're eager to see you.
Please sign-up to attend on fabshopstore.com
[If connecting via Zoom, please test your internet and/or cell service.]
Hurry, and reserve your spot today!
Enroll today: fabshopstore.com
---
---
* Please note that the live session will be recorded. By attending the live virtual event, you are consenting to the recording and further distribution of the recording by FSN.